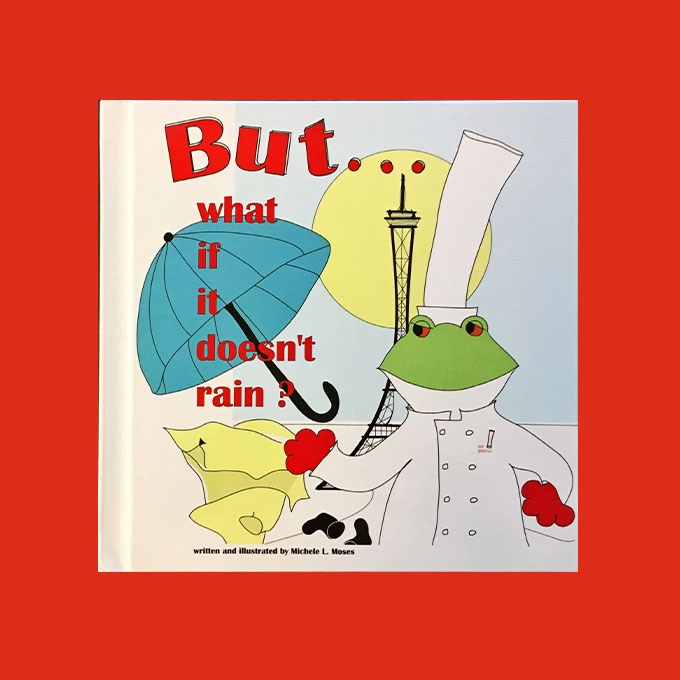 The 1st Book
But....what if it doesn't rain?
Chef Grenouille worries so much he is in danger of losing control of his life. This short story will amuse children and adults alike as Verte takes Grenouille for an adventurous ride in an effort to convince him that worry............
........is definitely useless!
"But, what if it doesn't rain?",  Michele's 1st whimsical story book about the famous Chef Grenouille, was published in 2005.
As of October 2012, "But, what if it doesn't rain?" is available as an e-book publication through BLURB.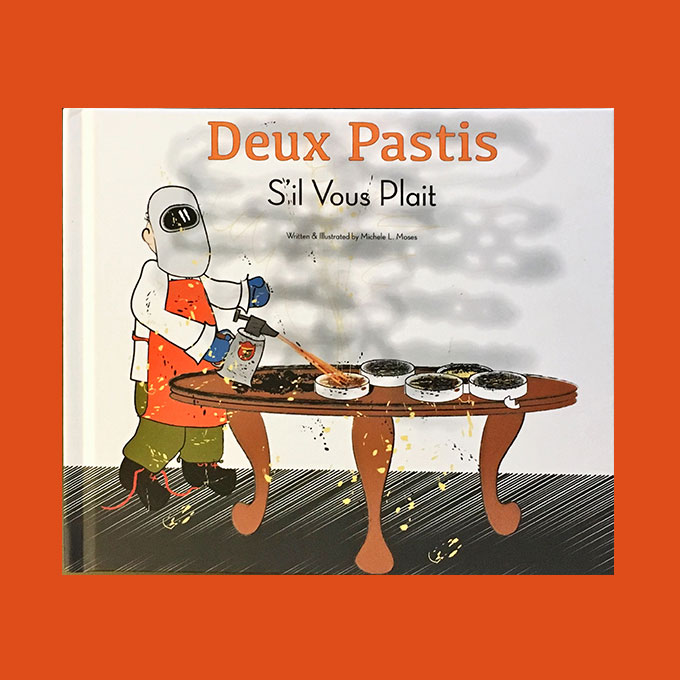 The 2nd Book
Deux Pastis S'il Vous Plait!
Ten years have passed since Chez Grenouille earned a third Michelin star and now Chef Grenouille basks in the fame of running two stratospheric, top notch, world renowned establishments, and just when you think you can relax and everything seems normal, you get a phone call from the Palais de l' Elysées.....
Michele's 2nd book about the famous Chef Grenouille, is available as an e-book for viewing in Ibooks on your Ipad.
As of December 2013, Deux Pastis s'il Vous Plait! is available in hardcover through BLURB, 86 marvelous pages including 50 full color illustrations!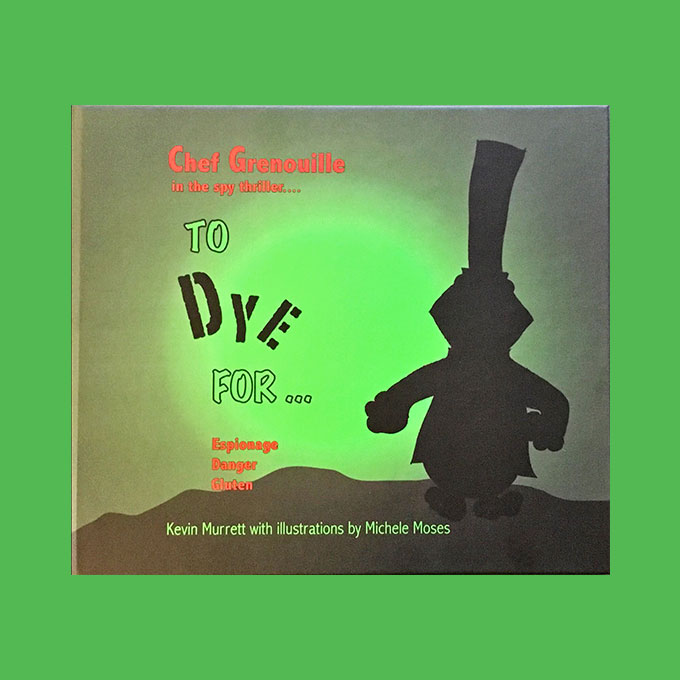 The 3rd Book
To Dye For...
"To Dye For..." is the third book of Chef Grenouille's adventures as France's most celebrated chef. Previous editions were written and illustrated by Chef G's personal Design Consultant, Michele Moses, with editing by his Business Manager, Kevin Murrett. Kevin is a talented writer who devotes most of his time to practicing architecture, leaving little time to document Chef Grenouille's many adventures.
So after learning of Chef Grenouille's latest escapade, a determined Kevin spent his 2012 vacation slaving poolside in the South of France scribbling notes in his journal while Michele watched and waited patiently. Each evening during l'heure d'apéritif Kevin reviewed his progress with Michele. By the end of their vacation a rough draft was ready and Michele began the long task of bringing the story to life through her illustrations. The result of this collaboration is a tale nothing short of genius highlighting Chef Grenouille's many talents and cunning sense of humor in a world filled with espionage, danger and gluten!
Many thanks to Grenouille's good friends at l' Auberge La Fenière in Cadenet for inspiration and exquisite hospitality. Learn more about the famous Chef Grenouille and his business partners Kevin + Michele.
The hardcover edition, 54 pages, 22 full color illustrations is available through BLURB in addition to the Ipad Ibooks version.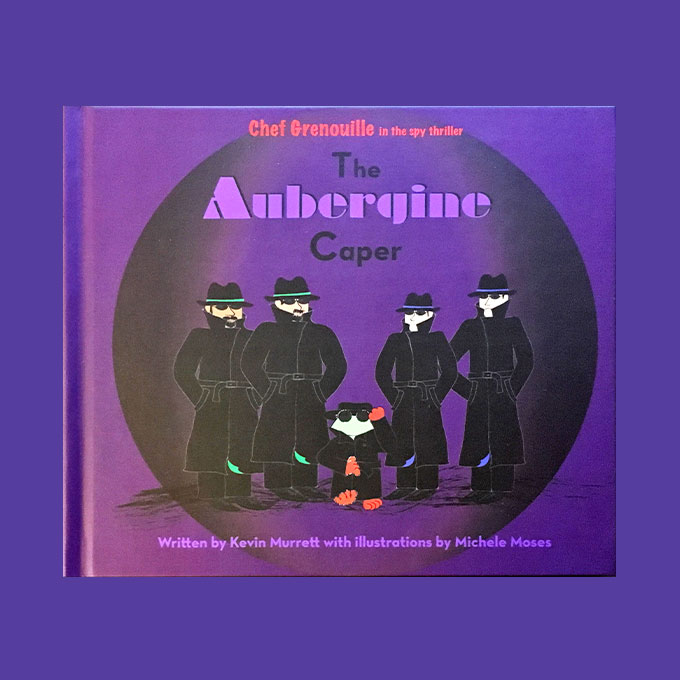 The 4th Book
The Aubergine Caper
Spies! Kidnapping! Gluten Free Croissants!
The adventures of Chef Grenouille continue in The Aubergine Caper, the fourth book featuring France's most celebrated gastronome.
Humbly arriving many years ago in Marseille on a Brazilian coffee boat, Chef G gradually rose by popular acclaim through culinary ranks to operate the most famous restaurant in Paris, a bistro, vineyard, spa, auberge, café, and, well, we lost count… Magically he does this all at the same time and still manages to fly back to New York each night and be with his creators, Michele Moses and Kevin Murrett when they come home from their design studio.
Sprung from their imaginations, each summer M+K write a new story while vacationing in Provence as a way of sharing the wonderful lifestyle and culture this region has to offer. Many thanks to all our French hosts who unknowingly inspire Chef Grenouille's passion for great design, great food, and great friends.
The hardcover edition is 60 pages, 30 full color illustrations, available through BLURB in addition to the Ipad Ibook version.
G5
is in development.